INJECTION MOLDING OF PLASTIC ELEMENTS
We offer to perform custom plastic elements by means of injection molding.
Services include injection molding of elements weighing from 2g to 600g.
As a specialized manufacturer of construction material elements, we are able to offer you the production of details made of the following materials:
PA6
Plastic characterized by maximum hardness and resistance of all polyamides. Used in the production of components exposed to large external forces and high temperatures, such as piston guides, linear wheels, cam disks, etc.
PA66

Semi-crystalline thermoplastic material, characterized by outstanding resistance to many chemicals and a wide operating temperature range. We use this plastic in the manufacture of internal vehicle parts. This material is ideally suited for parts with high physical and mechanical requirements.
ABS (acrylonitrile-butadiene-styrene
Mixture of 3 components, each imparting specific properties to this material: acrylonitrile – rigidity, resistance to high temperature and chemical resistance, butadiene – resistance to low temperature and elasticity, styrene – good processing. It has a wide range of applications in the manufacture of parts and components of home appliances (housing of appliances, bathroom shower trays, furniture), everyday consumer goods such as toys, phones, helmets, but also in the production of components for the automotive industry (dashboards, fittings, mirror housings).
POM polyacetal
Thermoplastic material widely used in virtually all industries: from gears and water fittings, through home appliances, ending with guitar picks. At our company, it is commonly used in the execution of details combined with other details made of polyamide.
PC
Thermoplastic material of high (max. 85%) transparency and mechanical strength, which makes even the parts with thin sections very durable. Used in many fields, including: production of household appliances, machine and vehicle assembly, electronics, medical technology, lighting, construction.
PC/ABS (polycarbonate blend of acrylonitrile-butadiene-styrene)
A blend of polycarbonate and ABS plastic. Used in production of elements requiring high heat distortion temperatures and high strength. This material is most commonly used in electronics (e.g. housing of screens, keyboards, cell phones) and automotive industry (e.g. consoles, instrument pan
els, fenders).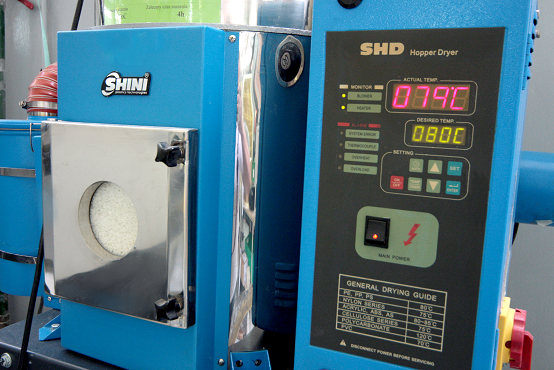 PMMA,

PBT,
also with talc and fiberglass additives.

Elements made of the abovementioned plastics are used in the automotive industry, household appliances, electrical engineering, industrial engineering, etc.
PS, PP, and PE processing allows us address a special offer to the construction, furniture, gardening, office supplies industry and more.
We also offer plastic injection parts featuring reduced hardness, such as thermoplastic elastomers or soft PVC.